President Museveni commends Alur King
President Yoweri Museveni has commended the Alur King, His Majesty Ubimu Phillip Olarker Rauni III for his leadership after the death of his grandfather.
The President Museveni who was today afternoon speaking at the 8th coronation anniversary of of His Majesty at Atyak Primary School playground in Atyak sub county, Ora Constituency in Zombo District said it is important to have children to carry on the legacy of the parents.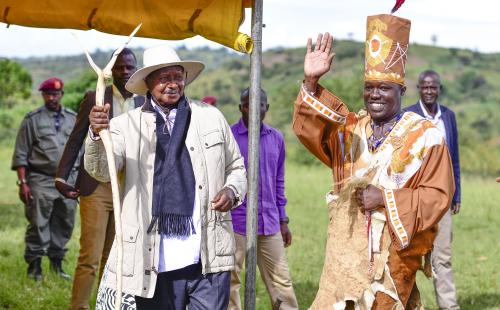 "Having children is important because when the parents die, they continue with the work of the parents. I am happy to see that the grandson is continuing with the work of my friend. I want to thank the people of Zombo for also supporting the National Resistance Movement candidates and policies," he said.
The President said that politics should not be only about ensuring peace but solving people's problems.
"I am happy that there is peace in Uganda today but we must deal with other issues like development namely health, education, infrastructure development and wealth creation," he said.
President Museveni said that NRM has been successful in addressing some of the issues like health through immunization, building and renovating health centers and hospitals and distribution of treated mosquito nets, among others.
Earlier, the President commissioned Warr Health Centre III in Warr Trading Centre where he urged the health practitioners to encourage the people to practice proper hygiene, good nutrition, avoid promiscuous lifestyles and go for immunization, among others, to avoid diseases.
"Health does not mean treatment. Good health means avoiding sickness. By the time you get sick and go for treatment, your health has already suffered," he said.
President Museveni said that District Health Officers should educate the people, using radio stations, on what food stuffs to eat for energy, bodybuilding and warmth, among others.
"All those foods are available in Uganda but Ugandans do not know what to eat," he observed.
On wealth creation, President Musevenicalled upon the people of Zombo District to adapt his four-acre model of farming for farmers with small pieces of land. He revealed that His Majesty Olarker Rauni had given him a piece of land to set up a model farm in the area where the people of Zombo would be taught how to use their land to improve their living standards.
"The King has given me land and I will come back to teach you about getting poverty out of your homesteads," he said.
The President said that the public should focus on creating wealth in their homes while government concentrates on the development role of providing electricity, water and education, among others.
The President donated a car to His Majesty Ubimu Olarker Rauni, a double cabin and also contributed Shs.50 million to the king's SACCO.
His Majesty Ubimu Olarker thanked President Museveni and NRM government for the continued support towards cultural leaders and their institutions, which has enabled them to thrive.
"We are committed to working with government to support policy implementation," he said.
The President said he would build for each of the 32 chiefs of the Alur Kingdom a house. He donated a mini-bus to help the chiefs move around as they perform their work.
His Majesty Ubimu Olarker Rauni bestowed a new title of 'Nyilak' (the one who organizes) to State Minster for Northern Uganda, Grace freedom Kwiyucwiny, for her hard work and also for her good working relationship with other leaders in the region. ENDS