President Museveni hails Coca-Cola Beverages on new Nutritional Drink
President Yoweri Museveni has welcomed a new Value-Add Dairy beverage bottled in Uganda by Coca-Cola Beverages Africa using products made fully in Uganda, in support of the government's Buy Uganda, Build Uganda initiative.
Meeting officials from Coca-Cola Beverages Africa led by Africa Group Managing Director Jacques Vermeulen, President Museveni commended Coca-Cola for taking his advice and innovating new beverages with nutritious value.
"In 1972 when I discovered milk could be packaged I did not look back. I have been worried that your drinks might decline because people prefer nutritious drinks that quench thirst but also provide food value. It is good that you have realized this and started bottling milk," President Museveni said.
Climb Up Milk is bottled by Rwenzori Bottling Company Limited, a subsidiary of Coca-Cola Beverages Africa, using only products made in Uganda.
President Museveni lauded the company for supporting the government's Buy Uganda, Build Uganda initiative and supporting the economy.
The Climb Up components include milk supplied by Lato Milk, which directly benefits Ugandan dairy farmers, sugar supplied by the Sugar Corporation of Uganda Limited (SCOUL) that supports sugar cane farmers in Lugazi, and packaging elements supplied by Riley Packaging Industries, Bhumi Tapes and Graphic Systems Limited.
Vermeulen said Coca-Cola Beverages Africa had pursued a local sourcing strategy for a number of years before the Buy Uganda, Build Uganda initiative was launched, under a company commitment titled, "A Better Africa".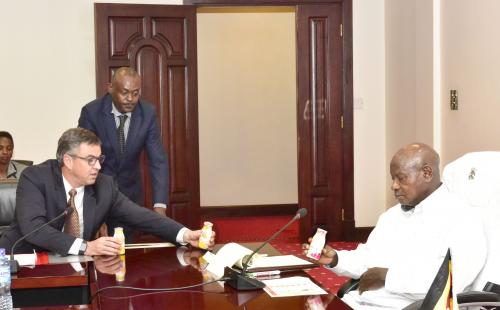 "Your Excellency, we are introducing more innovations of this nature that will add value to locally produced products, and we believe there are more opportunities in Uganda that will provide shared value for more Ugandans," he said.
During the meeting, which was also attended by Attorney General William Byaruhanga, Finance Minister Matia Kasaija, and Finance Permanent Secretary Keith Muhakanizi, the President stated that the government planned to introduce Digital Tax Stamps that would help the government monitor government revenues from product imports.
"The Digital Tax Stamps are only for imported items, not locally manufactured products. We only introduced them so that we can stop smuggling," President Museveni said.
Finance Minister Matia Kasaija confirmed that the Digital Tax Stamps would only be applied to imported goods, and assured the officials that there would be no double taxation of locally manufactured products or disruption to factory operations.
In addition, Vermeulen thanked the government for pursuing a tax policy that encouraged increased investments in manufacturing.
"We are investing in two new lines and will continue to invest in Uganda because we believe in this beautiful country. The government has been encouraging and accommodative, which makes Uganda investor friendly. We are your partners in development and will continue to operate in Uganda," he said.
Vermeulen was accompanied by Uganda Managing Director, Conrad Van Niekerk, Group Public Affairs & Communications Director Andrew Musingo Otieno, and Uganda Public Affairs & Communications Director Simon Kaheru.
#Ends